The One Rings produced by Thorkild's workshop are a labor of love. The process of creating a ring is best described by the jeweler himself. After casting an ingot, "it is then put through a hand operated press and a square 'wire' is made. The wire is bent into shape and then forged using hammers to create the desired shape. It is then finished using files and burnishes, culminating in a polishing process."
While perhaps best known today as the jewelers that created the One Ring, the Jens Hansen workshop continues to create Jens Hansens' original jewelry designs as well as new designs that fit into the philosophy that Jens was known for: simple, beautiful jewelry. Thorkild describes his design philosophy as "grounded in the techniques my father taught me. I enjoy metal and love to forge using hammers. My techniques do not lend themselves to fine or complicated work. I am a silver and gold smith. I prefer the metal to speak for itself. I believe the elements of simplicity in a design can enhance and compliment a stone or gem as well as the person."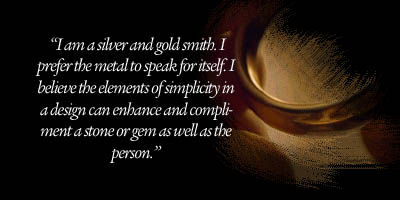 Some time has passed since that first screening and the movie has been an unquestionable success by becoming one of the largest grossing films ever made. The success of the film has made New Zealand a sought-after tourist destination, with fans of Tokien and fans of nature both eager to see the beautiful and diverse vistas the country has to offer. Visitors to New Zealand often discover the Jens Hansen workshop, where one of the large rings is on display in the window. Some fans come by only to see where the One Rings were made, and they are treated to the warm hospitality of the staff and a brief history of the rings. The workshop is also a stop on New Zealand's Red Carpet Tours, which offers a Lord of the Rings tour of the places in New Zealand significant in the film.
Many fans have even had pictures taken with the large gold ring. When asked if the One Ring is a fitting legacy for Jens Hansen, Thorkild ponders for a moment then answers "I guess so; Jens's work was so varied. This ring is a fine example of his ability to transform a concept into reality. It is a beautiful, simple ring and feels fabulous to wear and people love it!" He adds that Jens would have been pleased and "amused by all the publicity and pleased that the ring had been received so favorably. So many Tolkien fans have said that the ring is just as they imagined it or better!" Perhaps then, it is the best legacy of all.

Back to Page 1


Vist the Jen's Hansen Workshop on the web.
You can view many of Jen's other contemporary jewelry designs there.


Lunchip.com was designed for resolutions of 1024x768, or higher
All images and text Copyright (C) 2002 Lunchip.com. All Rights Reserved.
Certain One Ring images are copyright Newline Pictures and their respective copyright holders.